In the summer of 1980, after five years tied up in court battles, Topps and the MLBPA finally lost a monopolization lawsuit filed against them by Fleer. The ruling opened the door for new competition in the baseball card market. Less than a year later, both Fleer and Donruss would quickly launch their new baseball card brands for the 1981 season.
The first 4 years of Donruss featured some pretty bland designs. Simple white borders and re-used graphic elements resulted in a rather uninspiring product. In particular, it doesn't even appear much effort was made at all to create anything new between the '82 and '83 sets. However, the first influence of new design does appear in the '84 set... a hint of change to come.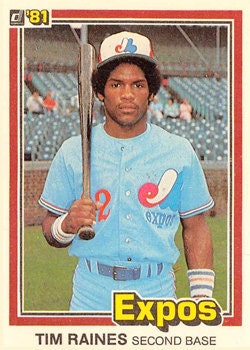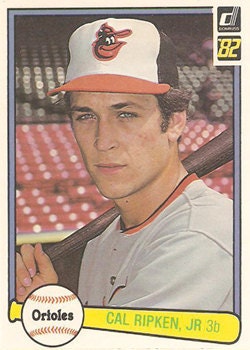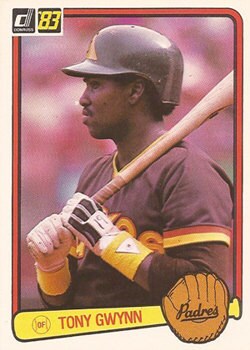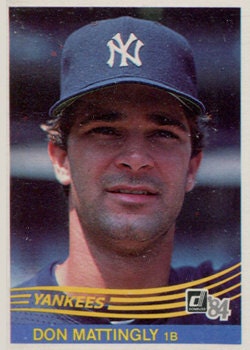 The art directors and marketing team did manage to accomplish two milestones in this early timeframe that would become hallmarks of the Donruss brand for years to come.
In 1982, they developed the "Diamond King" subset, featuring the artwork of painter

Dick Perez

. These illustrative cards appear to be an early marketing attempt for uniqueness. The annual set was complimented by a 63-piece

puzzle

for a Hall of Fame Diamond King.

Babe Ruth

was the face of the inaugural puzzle, and each wax pack included one puzzle piece... a wise marketing tactic, encouraging collectors to keep buying packs in order to complete the puzzle.

In 1984, they introduced the "Rated Rookie," which would ultimately help define their brand and launch a collecting frenzy of rookie cards. But, they still needed all of the right parts to fall in place at the right time.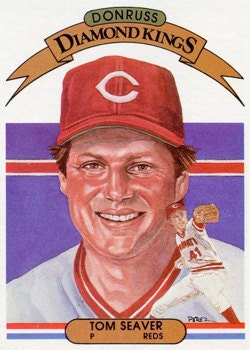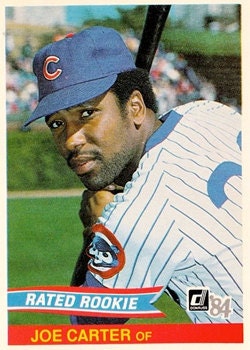 Something different started to happen with the 1985 set... I suspect Donruss changed creative directors or brought in a new design team in '84, when the '85 set was built. The results were fantastic! The new design was bold: a black border with accent red striping. Not only did they make a drastic departure from their previous sets, but they also created the iconic Rated Rookie logo that year. Additionally, they launched their year-end "Highlights" set with a logo that shares art direction from the Rated Rookie.
Unfortunately, the prospect list from '85 didn't feature a hot commodity. The brand new Rated Rookie logo was applied to a set of 20 players led by
Danny Tartabull
and
Shawon Dunston
.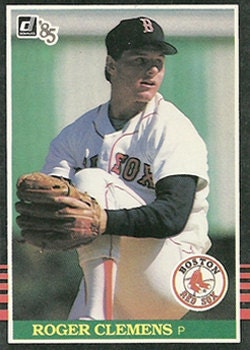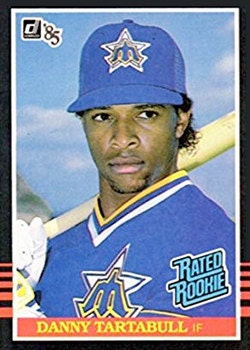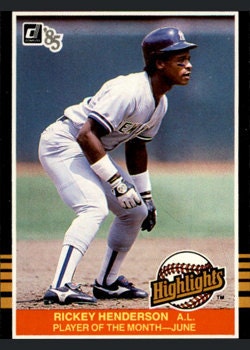 Donruss finally had a quality design team in place, they just needed a buzz-worthy player to help market their new look and icon. Luckily for them,
Jose Canseco
was about to arrive.
Canseco hit 33 home runs in 1986, earning him Rookie of the Year honors, and Donruss fully capitalized on his instant celebrity. Their Rated Rookies set still lacked a strong class of marketable prospects.
Fred McGriff
and
Andres Galarraga
were also included in the '86 set, but the neither player had the "it" factor yet in their first seasons. None of that mattered though, because the Canseco Rated Rookie became a phenomenon all by itself.
Hobby stores were selling the card to speculators for $5 when it first hit the market, which was sort of unheard of at the time. As he kept hitting home runs on his way to the ROY, the card value kept soaring to all-time highs. Packs... and boxes of Donruss were flying off the shelves. The card eventually became the hottest commodity in the hobby two years later in 1988, when Canseco became the first player to hit 40 HRs and steal 40 bases in a single season.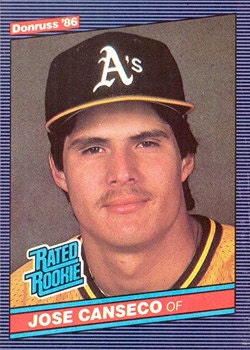 Wanting to further capitalize on the Canseco market, the Donruss design team created their second year-end set: "The Rookies." Topps had been issuing new rookie cards in their "Traded" sets since 1981, and this appears to be Donruss' long-awaited answer.
Donruss included Canseco in both their Highlights and Rookies sets, along with some other notable first-issue cards for
Bo Jackson
and
Barry Bonds
. The sets were marked by their different colorations of the base '86 design... another clever art directive by this design team.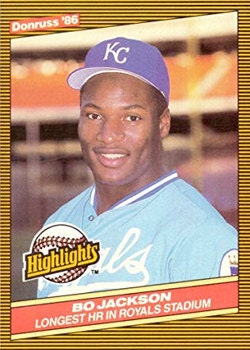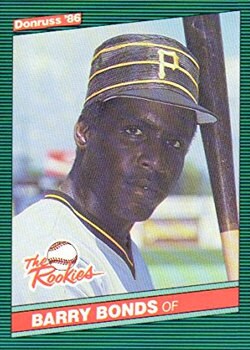 Thanks to Canseco, collectors were yearning for more Rated Rookies, and Donruss lucked out again with perhaps their best rookie class of all-time in 1987. The prospect list was filled with big names and future Hall of Famers, headlined by Canseco's teammate and Bash Brother,
Mark McGwire
. It included
Greg Maddux
, Bo Jackson,
Rafael Palmeiro
,
Benito Santiago
, and
Randy Myers
... a pretty good batting average for a 20-card set. That group helped keep the wax packs selling, but the card design was equally iconic as the logo placed on the bottom right corner.
The '87 Donruss set is my personal all-time favorite... I'm sure the Maddux rookie has a little bit to do with that:) The black border, accented with a baseball pattern and yellow piping, help frame the photo in another bold look.
Perhaps their art director or lead designer may have moved on after '87, but there was one last trick up their sleeve before departing: The "Opening Day" subset. It was a new offering to include more rookies and players who changed teams from trades or free agency prior to the season.
Creating all these little subsets helped capture more attention from the hobbyists, and put more stuff on the shelf to compete with Topps, Fleer, and new arrival Sportflics. The design team once again used a color variation to distinguish the new maroon-colored Opening Day set from the main black set.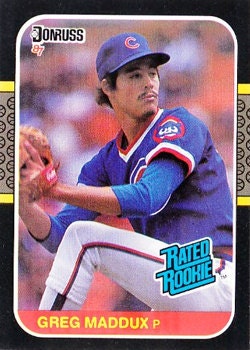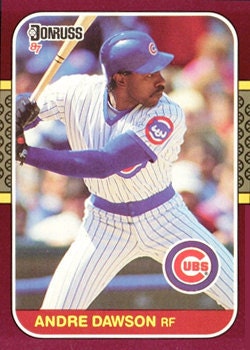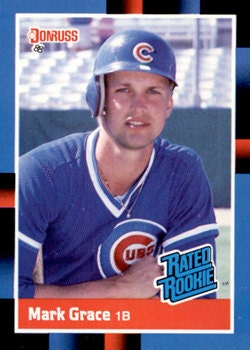 The 1988 issue shared some design elements from the recent run: the logo and year number in upper left and the rookie icon on the lower right. But, the border marked another forward move in design. The look has a different vibe from the '85-87 run, making me speculate that a new art director or lead designer took over. However, their main goals had been accomplished.
Donruss transformed from a boring third participant in the marketplace into a bold new brand... armed with a game-changing icon.
Thank you for reading an original thought by baseball card artist Matthew Lee Rosen. The photograph featured for this blog post is a detailed image of my 1985 Donruss piece. 
You can also like it on my
Instagram
. 
Learn more about
 me by visiting my other sites: 
fortheartofit.
 & 
Matthew Lee Rosen
.