I've always enjoyed the backs of baseball cards as much as the front, especially on the old colored card stock. Over the years,
Topps
has filled their backs with stats, comics, personal facts, career highlights, trivia questions and more.
I was eight years old in the summer of 1985, and my grandfather was spoiling me with wax packs nearly every day. He was like a magician... making packs appear out of nowhere or fall out of his pant leg. The backs had a pleasant grass green tint to it, with a complimentary red text. It was almost Christmas-like, except it smelled like stale gum instead. At the bottom, you would often find a Baseball Trivia Quiz. This was not a new concept for Topps, but the angled text box and comic book font were a great design pairing.
As I started creating baseball card art, I naturally gravitated back to 1985. I had this trivia quiz concept in my mind for quite a while. When I was finally ready to turn it into a reality, I had to start digging through cards to find the best question to use.
Among the things I would discover were:
The writers had a habit of using way too many softball questions in there, like on card #123 for Astros pitcher

Dave Smith

: "The Chicago Cubs Home field is called?" I mean, come on... even as an 8 year-old, I probably mocked that question.

While not every card in the 792 set featured a trivia question (some had career highlights or personal facts), a handful of the questions were repeated, which I thought was pretty odd. Surely, Topps had enough trivia in their files to not repeat a question?

Some questions were a bit too obscure, referencing random All-Star game or World Series achievements. Others are simply now outdated (records that have since been broken, or stadiums that no longer exist).
However, I did find a number of quiz tips that are still relevant decades later, which any trivia night bargoer should keep in their back pocket.
1. If you're ever asked, "Which team was first to..." there's a good chance the answer is the
Cincinnati Reds
.
There are multiple questions in the set with the Reds as the answer, including: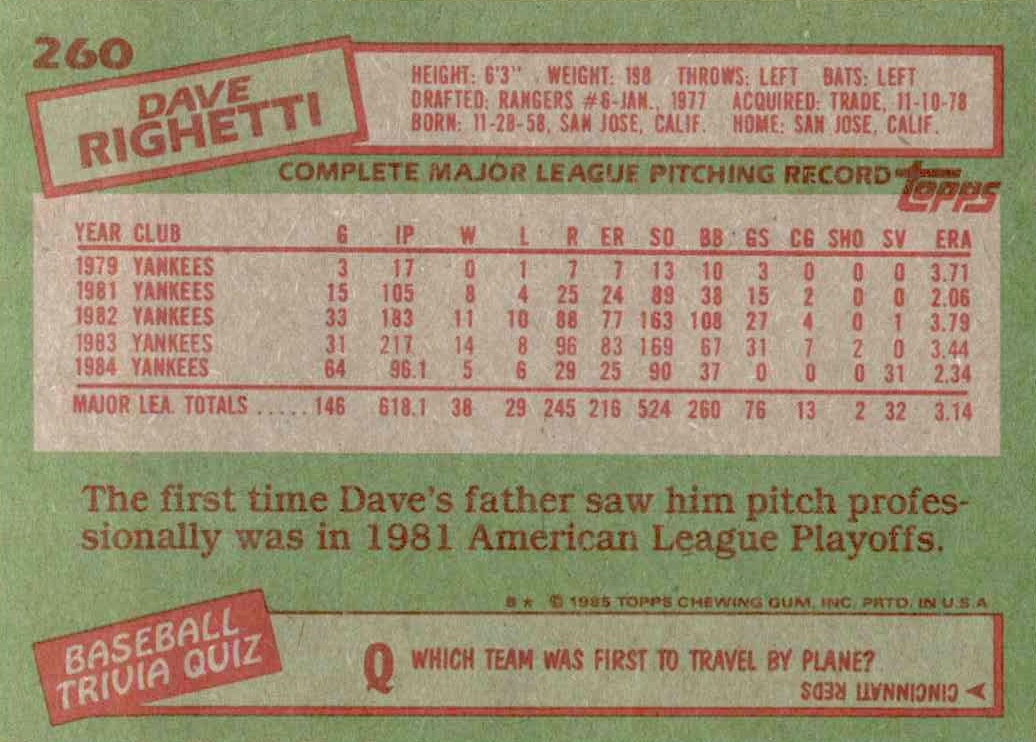 White Sox first baseman
Greg Walker's
card #623 contains a fact that every baseball fan should know at any given moment. Unfortunately, many do not... because it happened before any of us were born. Known at the time as the
Boston Americans
, they went on to defeat the NL champion
Pittsburgh Pirates
in a best-of-nine series. Playing a best-of-nine makes for a trivia question of its own.
3.
Babe Ruth
is the most often cited multiple choice option, but he's not always the answer.
Throughout the set, you'll find a lengthy list of multiple choice questions that feature the Great Bambino: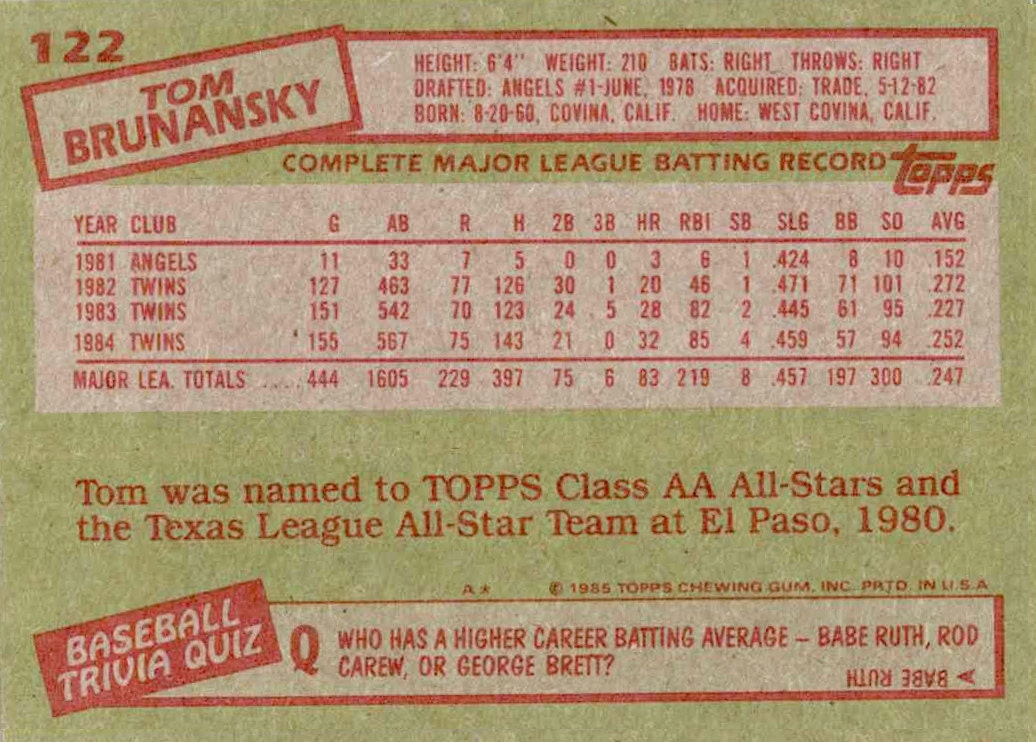 4. The first Major League Rookie of the Year was Jackie Robinson.
You'll find this question on the back of Royals outfielder
Willie Wilson's
card #617.
Jackie
won the inaugural
ROY award
in 1947, which was given to just one player representing the entire major leagues during the first two seasons of its existence. Since 1949, the honor has been given to one player each in both the American and National league.
5. Ted Williams is the last player to bat .400 in a single season.
This should be common knowledge to every baseball fan today, even though
Teddy Ballgame
accomplished it during the
World War II
era in 1941. He batted .406 that season, when the schedule was only 154 games long. The American League increased to 162 games in 1961, and the National League followed suit one year later.
A great follow-up question to that is on the back of Minnesota Twin
Gary Gaetti
's card #304: "The last National League player to hit over .400 in one was season was?" The answer is
Bill Terry
, who batted .401 for the New York Giants in 1930.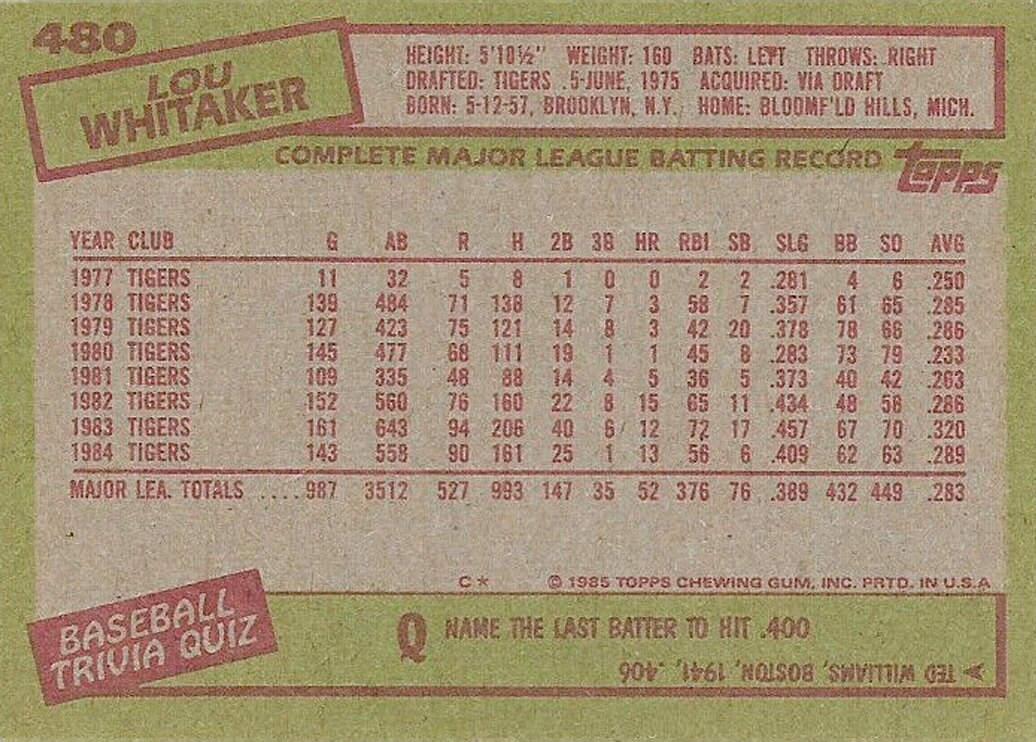 Thank you for reading an original thought by baseball card artist Matthew Lee Rosen. The photograph featured for this blog post is a detailed image of my Trivia Quiz painting.
 You can also like it on my
Instagram
. 
Learn more about
 me by visiting my other sites: 
fortheartofit.
 & 
Matthew Lee Rosen
.