The fact that
Mario Mendoza
somehow managed to stick in the major leagues for parts of eight seasons might just be the eighth wonder of the world. One glance at the back of an old Topps Mario Mendoza baseball card would tell you that he was a 5'11" infielder from Chihuahua, Mexico, who probably hit below .200 in the previous season. That's a genuine Hall of Shame-worthy accomplishment, which occurred four times in his career.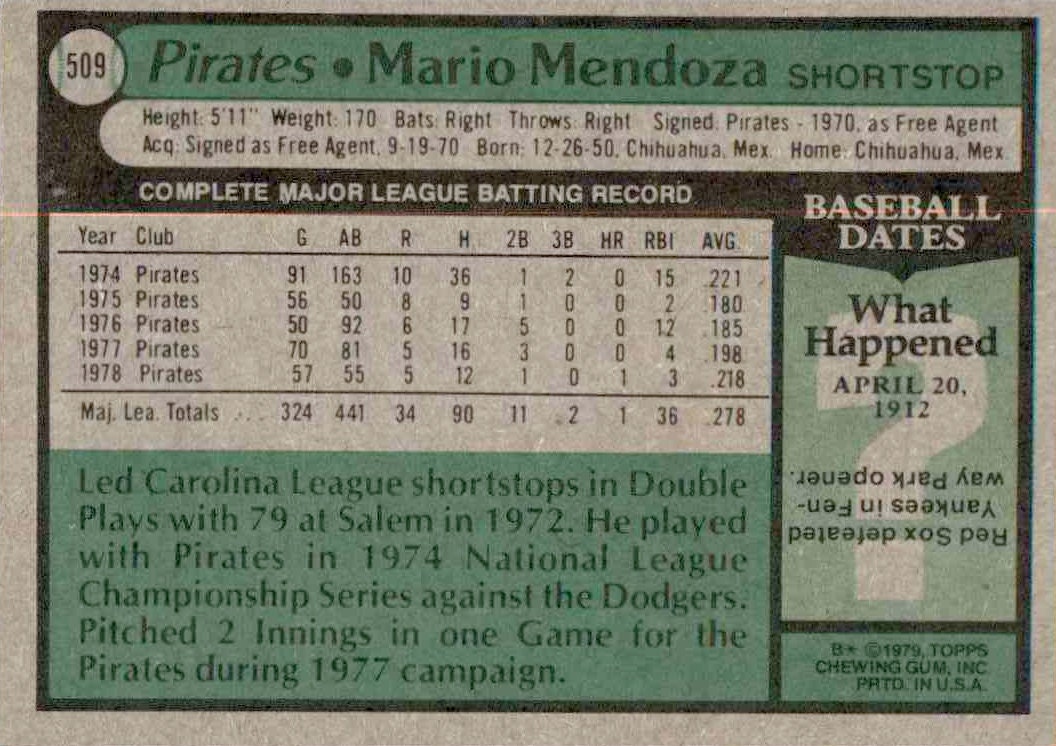 Now, flip the card over to the front and you'll quickly discover just why he couldn't hit! I see a man with squinty eyes desperately hiding from the sun behind a pair of Coca-Cola bottle thick glasses. This is not exactly the profile of a major league hitter… more like a man destined to fill prescriptions at a pharmacy or do your taxes.
It's a miracle that a teenager with poor vision and a weak bat actually caught the attention of a professional scout in the first place.
Mendoza was signed by the Pittsburgh Pirates at age nineteen. Two years later, in 1972, he batted just .221 after a full season for the Salem Pirates in the Carolina League (A-Ball).
The following year, he somehow managed to hit .268 in the Eastern League (AA) with a career-high 45 walks. I would theorize that his coaches must have been pushing him to swing the bat less and run a lot, because he also stole 30 bases that year. But, incredibly, he was caught stealing a whopping 23 times for an atrocious 56.6% success rate.
In 1974, the Pirates promoted him to AAA, where he continued to masquerade as an adequate hitter for their Charleston team. Then, just three weeks into the season, Mendoza made his pro debut on April 26, 1974 at age 23. This is perhaps the second miracle of his career.
He was a notable plus defender, but outside of his glove, I'm not sure how a general manager of a team in the 1970's ever saw any potential. He didn't reach base often… he exhibited zero power… and he wasn't really a threat on the bases. The limited success with the bat he had in the minor leagues was a complete anomaly. By today's measurements, Mendoza had an overall negative value.
Wins Above Replacement (
WAR
), is a modern metric used to calculate a player's value over an average replacement level player (0.0 WAR). Mendoza finished his major league career with a -2.7 WAR. This was matched by his career slash line of .215/.245/.262 (AVG/OBP/SLG) for an overall .507 OPS (On-Base + Slugging Percentage).
In 1,456 plate appearances over parts of 686 games, Mendoza hit just 4 home runs, drew only 52 walks for a 3.5% rate (15.0% is excellent and 4.0% is considered awful), and he attempted to steal 20 bases… getting thrown out 8 times.
Even during his best season with the Seattle Mariners in 1980 at age 29, Mendoza finished with a laughable .596 OPS. To put that into perspective, there were only two qualifying players in the majors who finished with an OPS under .600 for the 2018 season: Kansas City's
Alcides Escobar
(.593) and Baltimore's
Chris Davis
(.539).
I simply can't imagine a major league team in today's landscape reserving a roster spot for Mendoza. Lasting eight seasons for the Pirates, Mariners and Texas Rangers was the third miracle of his career.
Mendoza's name has become synonymous with hitting failure. His Seattle teammates
Tom Paciorek
and
Bruce Bochte
would often rag on him for hitting so poorly, and a legend was soon born.
As the story goes, in 1980
George Brett
was getting off to a slow start. The Hall of Fame Kansas City Royal was hitting just .259 at the end of April. At some point, Paciorke and Botche kidded with him that he might "sink down below the Mendoza Line," if he wasn't careful. Brett later mentioned their playful joking to ESPN's
Chris Berman
, who had a knack for spreading catchphrases and nicknames on his SportsCenter broadcasts. The term "
Mendoza Line
," quickly became popularized.
That year, Brett got back on track and flirted with batting .400, a feat that hasn't been accomplished since the great
Ted Williams
hit .407 in 1941. Ironically, Brett fell a tad short, finishing the year with a .390 average thanks in part to a series in September vs the Mariners, in which he went just 2-for-11, while getting robbed of three potential hits by none other than Mario Mendoza.
The term "Mendoza Line," is rooted in pop culture as the low-bar standard for performance from a major league hitter.
If a player has a batting average under .200, they are said to be hitting below the Mendoza Line. Mendoza is no doubt among the worst hitters in major league history. His career was saved only by his glove and the decade in which he played: an era of baseball which didn't have detailed analytics and modern technology to help evaluate and develop talent.
In the current baseball landscape, it's unlikely that Mendoza would've ever reached the highest level. Yet, after an extremely forgettable eight seasons in the major leagues, Mendoza's name lives on forever… his fourth and greatest miracle.
Thank you for reading an original thought by baseball card artist Matthew Lee Rosen. The photograph featured for this blog post is a detailed image of The Mendoza Line. 
You can also like it on my
Instagram
. 
Learn more about
 me by visiting my other sites: 
fortheartofit.
 & 
Matthew Lee Rosen
.